Punta Bagna, 2737 meters high... A 360° view on the Vanoise glaciers (Chavière, Aiguille de Peclet), the Queyras, the Grand Argentier, the Meije and the Ecrins, the Mont Thabor... From there, the strong skiers will enjoy the superb ungroomed couloirs of Punta Bagna or the black one of the Corniche The detachable chairlift also allows you to link the rotations without losing time. And if some in your group are less at ease, no stress! Intermediate skiers can also take advantage of this by going south to the two beautiful blue runs of the Lake and La Combe.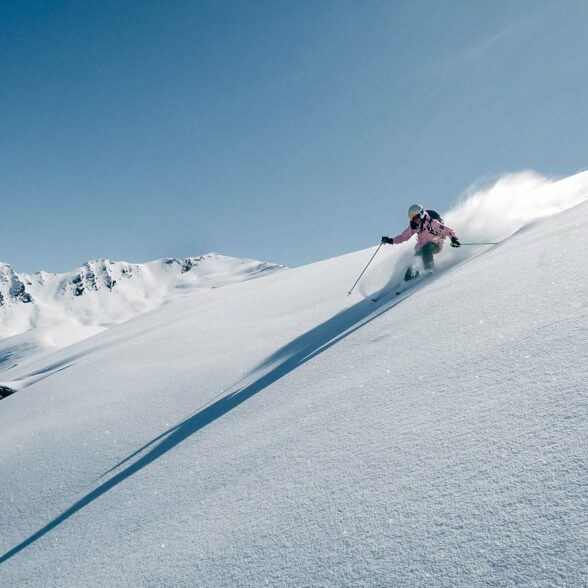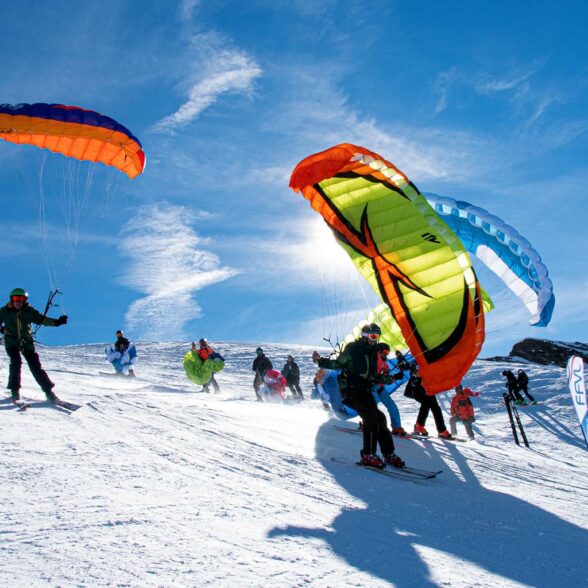 Freeride skiing + gliding with a small "kite" type sail, are you tempted? The mix of these practices was invented in the early 2000s in Valfréjus: it's speedriding! Valfréjus has a speedriding school, so you can learn this spectacular sport. You don't have to be an expert skier to try it and you can start from 10 years old. What a great way to try it all together! Several spots allow you to practice in Valfréjus and you will see sails regularly in the sky of the resort.
At the entrance of the Valfréjus resort, the Bob Park awaits you. A 2 km long sledging run with a 200 m difference in altitude. After skiing, you can take the Charmasson chairlift and go on this sledging run with tunnels and sharp turns. Some great races with your family or friends are in prospect!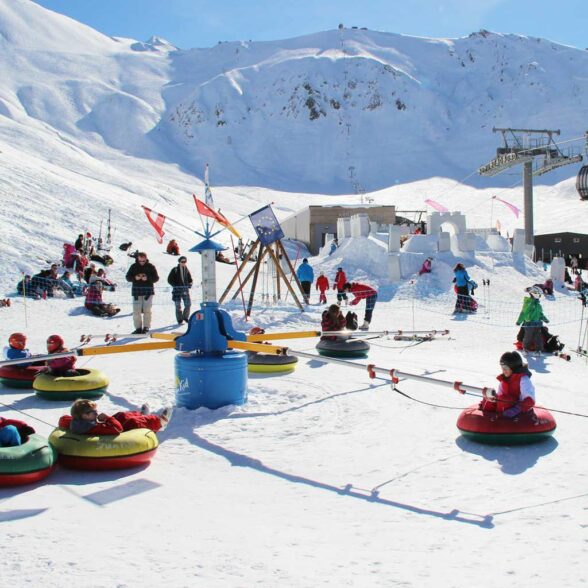 Enjoy the Kid Park with your family
At an altitude of 2222 meters, the vast Arrondaz plateau spreads out in the heart of the Valfréjus resort. On this plateau, right next to the high altitude restaurant La Bergerie, the large play area of Kid Park awaits children: swings, a huge snow castle, a zip line, tunnels... and even a merry-go-round with snow balls. A lot of fun for the whole family (or with friends, the buoys can support the weight of an adult) between sliding and snow games! A playful area with free access.
Visit the Charmaix chapel by night
Between bars and concerts, the evenings are generally lively in Valfréjus. But the resort also offers an amazing heritage to discover by night. During the vacations, night outings are organized to visit the Charmaix chapel by torchlight. With a heritage guide you will learn more about the history and mysteries of this impressive medieval sanctuary clinging to the mountain. And at night, with the lights of the torches and the snowy fir trees, the visit of the site is simply magical. A 100% Instagramable spot.