Mythical routes
Tour du Thabor, Grand Argentier...
The heights of Valfréjus offer many ski touring routes. Take advantage of them from the resort or from the Thabor refuge.
Ski touring is practiced from the autonomous season to spring in Valfréjus. Before the opening of the ski lifts, many amateurs put on their skins at the Lavoir, or even directly from Valfréjus, in the direction of the Thabor, the Grand Argentier... In winter, some take advantage of the gondola and then the Punta Bagna chairlift to start from a higher altitude and reach their goal more easily
Ski touring is also linked to the Thabor refuge, on the heights of Valfréjus. This refuge is guarded from mid-February to the end of April and is the ideal site for exceptional outings for all levels: initiation on the Pointe de Terre Rouge side, north side on the Gran Bagna side, ski mountaineering with the Roche Bernaude or the Modanais couloir... As for the Mont Thabor, it offers an exceptional site and a sumptuous panorama
A century of ski touring in Valfréjus
In Valfréjus, ski touring has been practiced since the beginning of the 20th century: the area was one of the first to be surveyed on skis by Alpine hunters. Very quickly the practice spread and it is here that one of the first ski crossings of the Alps was made, between Modane and Bardonecchia. This historical epic is recalled every year by the Traversée des Rois Mages, a ski touring event that brings together hundreds of skiers on the last Sunday in March.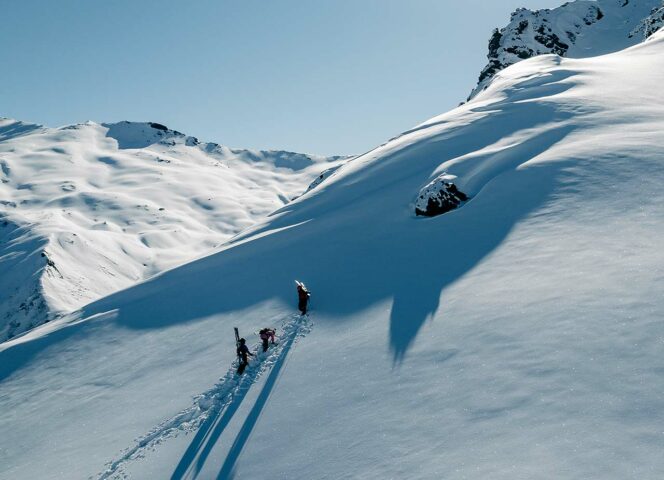 The mountain is a place of freedom and adventure. But before leaving the open and secure slopes to put on the skins, always make sure you have respected the safety rules: check the quality of the snow cover with the professionals, weather report, shovel, probe, ARVA.
Be accompanied and tell at least one person about your itinerary. The easiest way is to call on the professionals, instructors and guides of the resort who will accompany you in complete safety to enjoy the fresh snow and wide open spaces. In the mountains, you must also know how to give up. It is sometimes tempting to go for a virgin face but if the safety conditions are not met, always play it safe and turn back or choose a less exposed slope.
Methods of payment
Credit card

(3)

Check

(7)

Classic Holiday Voucher

(3)

Species

(7)
You might be interested in...