Valfréjus, a pioneering speed riding resort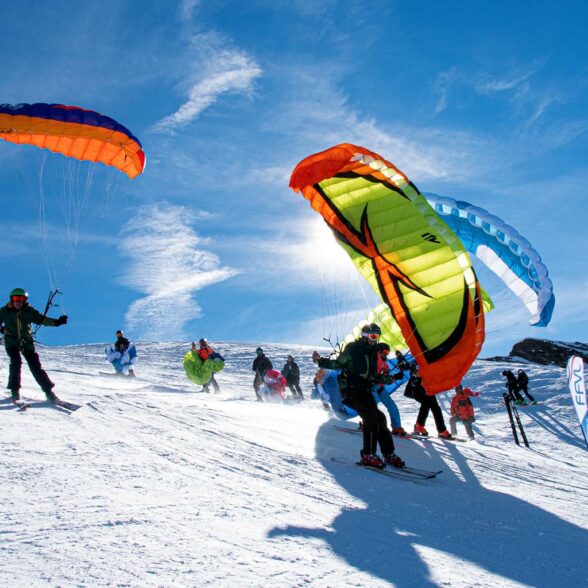 Valfréjus is THE place to try this impressive discipline, yet accessible to most people. A sport in the heart of nature that combines flying (thanks to a mini sail) and skiing, for a gliding effect of the most exotic. The dedicated areas under the Punta Bagna chairlift allow you to fly in complete safety.
In Valfréjus, initiations to speed riding are possible from the age of 8 with courses offered by the Ataka School, the first speed riding school in the world in Valfréjus.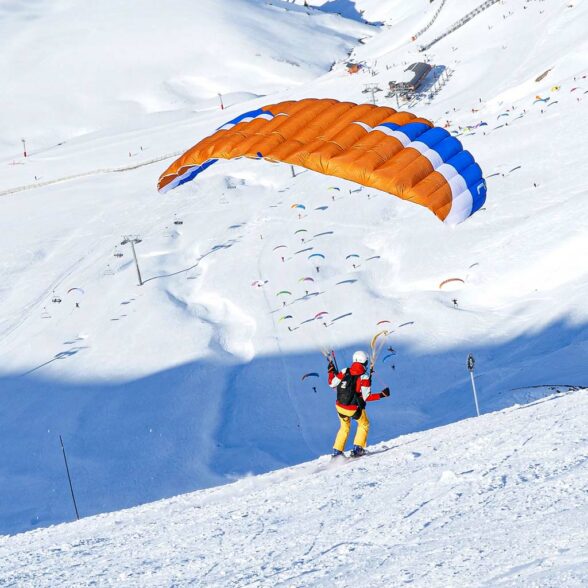 Interview
"Freeride in 3D".
Franck Coupat, instructor at the Ataka school in Valfréjus
Speed riding was born in Valfréjus in the early 2000s. Let's take a look at the origin of this spectacular sport which combines freeride and flight with Franck Coupat, instructor at the Ataka school in Valfréjus, the first speed riding school in the world.
What is speed riding?
Franck Coupat: Speed riding is 3D freeriding, a "new generation" freeride. This combination of skiing, paragliding and skydiving allows you to alternate between gliding and flying, for maximum fun. Imagine, you are skiing off-piste, and then suddenly, you see a rocky bar a little lower. What if, instead of going around it, you decided to fly over it in complete safety? That's what speed riding is all about! Equipped with your skis and a small wing, you alternate between skiing and flying. The objective is not to fly high and long, but to play with the terrain by flying down the slopes. To learn, you will not be asked for any paragliding experience. To access this sport of pleasure between sky and snow, it is however advised to have a 3rd star level in skiing.
Was speed riding born in Valfréjus?
Yes, this innovative practice was born in Valfréjus. In 2000, Valéry Montant, a precursor of base jumping and paragliding, had the idea of flying with a smaller wing to fly faster and thus expand the flight range. In 2001, in Valfréjus, with Frédéric Fugen, now a member of the Soul Flyers, we started to take off from a slope, skis on, with a small airplane jump wing. We fly and make "touches" on the snow with our skis... This is the beginning of the practice. In 2003, some paragliders took up the challenge, developed the equipment and started to organize and codify the practice.
How did speed riding develop after that?
With Fred Fugen, Antoine Montant and David Eyraud, the big names in paragliding, we came up with the name "speed riding": from then on we could ride... but ride faster! The mountain became a giant snowpark... In 2006 the French Federation of Free Flight recognized the sport and in 2006 the first speed riding school, Ataka, was born in Valfréjus. Today speed riding is practiced in many resorts in the Alps. In Ataka we have trained hundreds of speed riders and you can see gliders all winter long in Valfréjus.
What are the assets of the resort to practice speed riding?
From the bottom of the resort of Valfréjus, in only 2 lifts, 1 gondola and 1 chairlift, you can quickly reach Punta Bagna, the top of the ski area at 2737 meters of altitude. From Punta Bagna, the slopes can be skied on all sides and there is something for every level. Off-piste, there are many variations with very nice committed corridors. From beginners to advanced skiers, it is a real drop zone that is offered to skiers. Thanks to the ultra fast chairlift and good conditions, you can make 40 rotations, that is to say 40 flights... Many assets which make Valfréjus the best "3D" freeride spot in France!
You might be interested in...