Tasting Beaufort cheese in Valfréjus
The herds in the mountain pastures
Tarines and abundances
In the mountain pastures on the heights of Valfréjus, herds of cows and sheep graze all summer. The milk of the Tarine or Abundance cows is transformed into Beaufort cheese at the Lavoir cheese factory. A cheese factory installed in a former military barracks. At the end of the day, you can visit this cheese factory and buy Beaufort directly from the producer.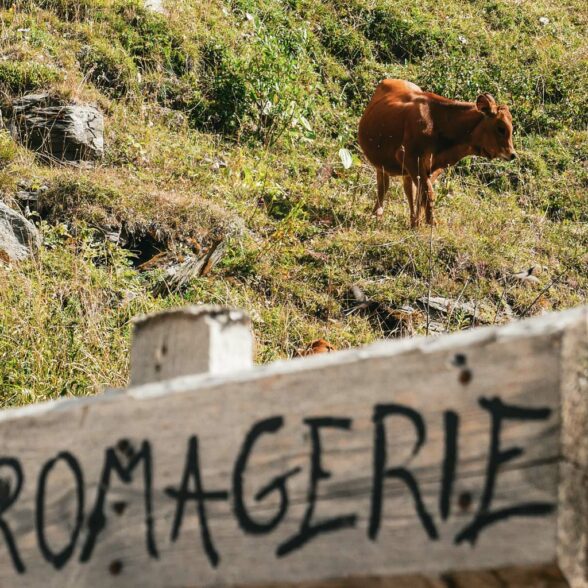 Sheep and patous in the mountain pastures
During your hikes, you will also regularly see sheep enjoying the mountain grass. Keep your distance, however, as the herds are guarded by shepherds and patous dogs who may perceive you as a threat if you get too close or cross the herd.
The herds of sheep and cows graze at high altitudes all summer long and thus contribute to the maintenance of the landscape. Throughout the Haute Maurienne Vanoise, several mountain pasture farms welcome you. The cheese makers, the alpagists and the farmers will make you discover their life, hard but beautiful, and their products. They will gladly tell you about their job, milking, haying, calving, patous, wolves...
Le Lavoir : a former barracks transformed into a cheese factory
The Lavoir cheese factory in Valfréjus is located in a former military barracks of the Maginot line of the Alps. Built between 1932 and 1939, this barracks supported the Lavoir fort, located below the barracks. The entrances and casemates of this fort can still be seen along the trail.
Every summer, a farmer settles with his herd from June to September in the old barracks. The building is used as a dairy for the production of Beaufort cheese, tomme, serac and butter.
The visit of the cheese dairy is done every day during the summer season (July and August) from 3 pm to 8 pm. A point of sale is open at the same time.
The Beaufort cheese from the Lavoir cheese dairy in Valfréjus is an exceptional cheese made from the milk of cows that graze in the mountains all summer long. Typicity and authenticity guaranteed.
Beaufort d'alpage is made with milk from a single herd, at altitude (above 1500m). At this height, the composition of the grass changes, which gives this mountain cheese an incomparable taste, firmer in the mouth than the summer Beaufort. This particularity makes it a rare and noble product.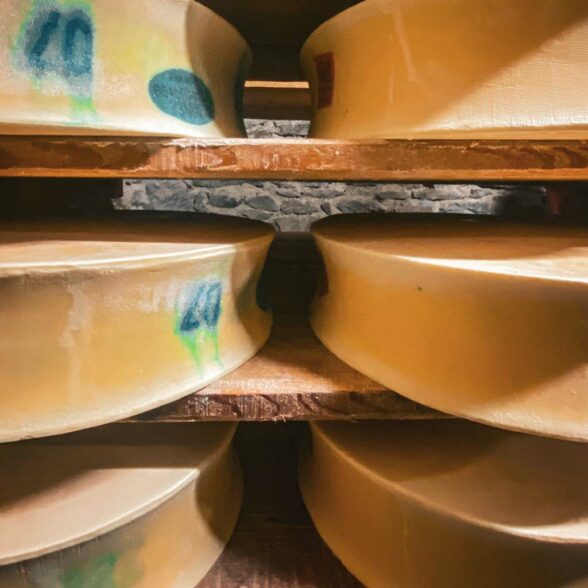 Beaufort cheese
Beaufort cheese has an Appellation d'Origine Contrôlée (AOC) which imposes very strict specifications, including regular checks on the milk producers and a minimum maturing period of 5 months.
Beaufort cheese comes in the form of a wheel weighing about 40 kg, 11 to 16 cm high and 35 to 75 cm in diameter with a concave heel. Its paste is smooth and ivory to yellow in color. It is initially firm in the mouth and then melts.
In Valfréjus, the Beaufort cheese produced is a mountain Beaufort: a cheese produced in altitude from a single herd.